Wojna handlowa między Chinami i USA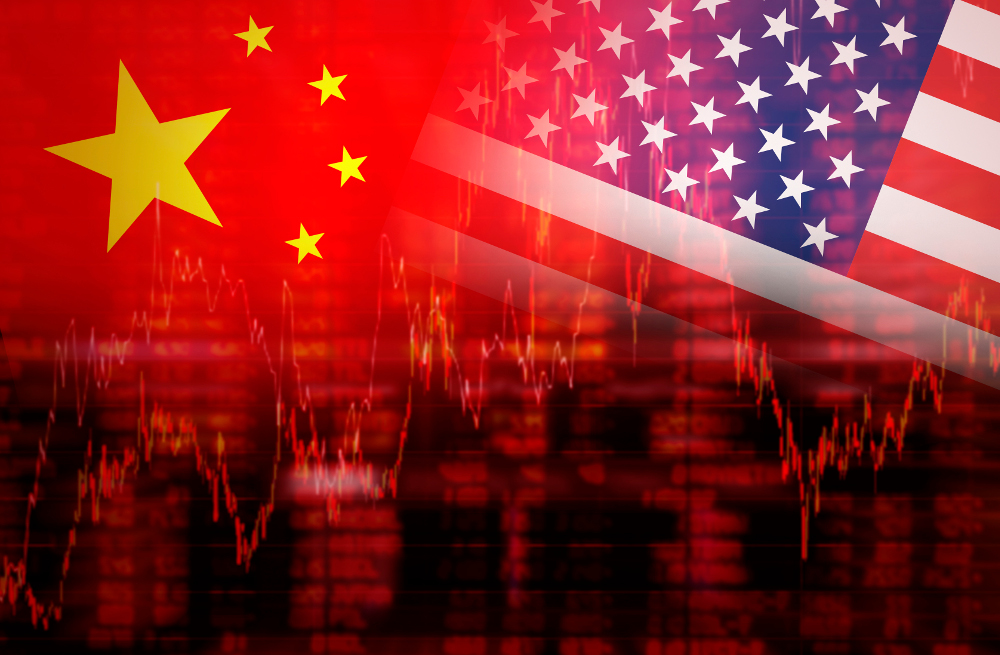 w nadchodzącym tygodniu opublikowane zostanie sporo raportów makroekonomicznych, jednak to narastający konflikt pomiędzy USA i Chinami będzie tym, na czym w pierwszej kolejności skupią się inwestorzy. Smaczku całej sytuacji dodaje fakt, że wśród opublikowanych raportów znajdą się również ważne dane z dwóch największych gospodarek świata. Niemniej jednak, mając na uwadze to, że wojna handlowa zaczyna wchodzić w krytyczną fazę, czynniki polityczne zdają się mieć większy wpływ na wycenę aktywów.
Wojna handlowa między USA i Chinami (cały tydzień)
Prezydent Donald Trump zadbał o to, żeby temat wojen handlowych nie schodził w najbliższym czasie z ust inwestorów. W momencie, kiedy wydawało się, że konflikt zostanie złagodzony za sprawą doniesień o możliwych negocjacjach, Chiny zszokowały rynki, proponując wprowadzenie opłat celnych na wrażliwe składniki amerykańskiego eksportu, takie jak soja czy bawełna. Na tym jednak się nie skończyło. Donald Trump podniósł poprzeczkę, rozważając nałożenie ceł na towary warte 100 mld dolarów. Co prawda, może to być jedynie swego rodzaju straszak, jednak odpowiedź Chin będzie tutaj kluczowa. Główny doradca Trumpa, Larry Kudlow zaznaczył, że wciąż może dojść do negocjacji pomiędzy USA i Chinami. Warto jednak mieć na uwadze fakt, że postawa Chin może być teraz bardziej stanowcza. Inwestorzy powinni więc uważnie obserwować rozwój wydarzeń. Kluczowe rynki: US30, DE30.
USA: Inflacja i protokół z posiedzenia FOMC (Środa, 14:30 i 20:00)
Temat wojen handlowych zepchnął na boczny tor takie kwestie jak polityka monetarna, jednak nie możemy zapominać o tym, jaki ma on wpływ na rynki finansowe. Jakikolwiek znak sugerujący cztery podwyżki stóp procentowych może spotkać się z szybką reakcją takich rynków jak rynek walutowy, akcji czy metali szlachetnych. Warto podkreślić, że gdyby jeszcze jeden z członków Rezerwy Federalnej opowiedział się za czterema podwyżkami, mediana oczekiwań na tak zwanym "dot-charcie" przesunęłaby się z trzech do czterech. Pozostaje pytanie, czy najnowsze "minutki" pokażą bardziej jastrzębie nastawienie amerykańskich bankierów centralnych. Ponadto, tego samego dnia zostaną opublikowane najnowsze dane inflacyjne, które obecnie są kluczowe dla dalszego kierunku polityki pieniężnej. Kluczowe rynki: Złoto, EURUSD.
Chiny: Inflacja (Środa, 15:30) i bilans handlowy (Piątek)
Ze względu na ograniczone zaufanie co do ich wiarygodności, inwestorzy często ignorują dane z chińskiej gospodarki. Jednak teraz, kiedy Państwo Środka znajduje się w samym centrum wydarzeń, sytuacja może ulec zmianie. Wprowadzenie opłat celnych może doprowadzić do wzrostu inflacji, co oznaczałoby potrzebę prowadzenia bardziej restrykcyjnej polityki pieniężnej. Biorąc pod uwagę wysoki poziom zadłużenia, może się to przełożyć na spowolnienie gospodarcze. Przypomnijmy, że ostatni odczyt chińskiej inflacji CPI wypadł lepiej od oczekiwań, tak więc kolejne pozytywne zaskoczenie może wywołać niepokój na rynkach. Kluczowe rynki: AUDUSD, CHNComp.
źródło:XTB
Komentarz:
Wojny toczą się o ziemie lub zasoby, ale w obu przypadkach chodzi o osiągnięcie zysków. Zanim dojdzie do jawnych działań zbrojnych, najpierw tocza się wojny dyplomatyczne i ekonomiczne, dlatego postanowiłem śledzić te działania. Od wyniku wojny ekonomicznej zależy czy wybuchnie wojna w tradycyjnym znaczeniu, czyli z użyciem wojska.
Jeśłi Chiny zwyciężą w wojnie ekonomicznej, możemy spodziewać się dalszych działań ekonomicznych w celu całkowitego pomniejszenia znaczenia USA. W tym przypadku Stany wywołają resztkami sił ekonomicznych wojnę militarną.
Jeśli USA zwycięży ekonomicznie, również będzie starało się, podwyższyć swoją przewagę, zagrażając swoim wojskiem, ale do samej wojny może nie dojść, podobnie jak nie doszło do niej po upadku ZSRR.
Ponieważ jestem osobą wierzącą, więc jestem przekonany, że proroctwa zapowiadające upadek Wielkiej Nierządnicy i handlu światowego drogimi towarami oznacza, iż wojnę tą przegrają Stany Zjednoczone, gdyż to ich petrodolar jest fundamentem handlu światowego.
Krzysztof Król